About the Company
Hostedrapidly.com is a division of Rapidtech Computer Services. Rapidtech was founded In August of 1999, Hostedrapidly continues to provide quality web hosting at an affordable price for everyone. In February of 2010, Hostedrapidrapidly was pleased to acquire Destiny Host & Hivespeed Networks. We are pleased to have been able to have the best service and reliability in the industry with many satisfied customers. At Hostedrapidly, we aim to provide quality services, along with support. If at any time you encounter errors, we offer live support and ticket support to answer and resolve your issues.
With a quality network, your website is guaranteed to be online 99%, along with a 7 day no risk money-back guarantee.
Professional Team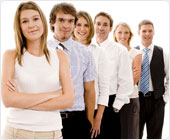 Live chat and Support Ticket Staff
All of our support staff are checked on their knowledge of web hosting and professionalism. All of our support staff speak English fluently as well.